Just hours ago, the Boomerang VOD and app added more Scooby to the service in addition to the rest of Be Cool Scooby-Doo Season 1, which premiered on the service last week. Though it is a tad surprising considering Scrappy's reputation among some fans, Boomerang has added the entire series "The Scooby-Doo and Scrappy-Doo Show" (or the first season of Scooby-Doo and Scrappy-Doo, if you prefer) to the service, with all 16 episodes digitally remastered. Three episodes from "The Richie Rich / Scooby-Doo Show" were also added to the service under the "Scrappy-Doo" category. These episodes include "A Close Encounter With A Strange Kind," "A Fit Night Out For Bats" and "Chinese Food Factory."

In addition, Boomerang has created an online feedback system of sorts where you can answer various surveys and give suggestions on how to improve the Boomerang streaming service. Though it may simply just be a gimmick that the people at Boomerang are using just to get people to reaffirm what the executives want to hear (versus actually listening and changing their service based on everyones suggestions). However, I admittedly joined the service about a week ago and recommended Scooby & Scrappy-Doo in a survey, and hey, now it's on there, so it is worth signing up for! Well, I doubt it was just because of me but it is an amusing coincidence.

Powered by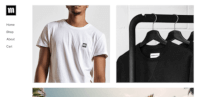 Create your own unique website with customizable templates.