Welcome to ScoobySnax.com!
ScoobySnax.com is a site dedicated to the Scooby fans that has an extensive amount of info on Scooby-Doo and the various incarnations and forms of the franchise throughout the years. Some of the site's features include episode and movie guides, character info, info regarding home media releases, video games, Scooby-Doo LEGOs, and voice actors, as well as a history of the series, a collection of fanfiction and exclusive interviews with some of the show's crewmembers who have worked on Scooby-Doo! Be sure to also check out the site's blog, which features a variety of articles, the latest Scooby-Doo news and a fun fact about Scooby-Doo posted every Monday! I try to update the site often, so check back often for any new updates!
---
RECENT SITE UPDATESNovember 30, 2018 -
Added Big Top Scooby-Doo! to digital section of the
How to Have a Complete Scooby-Doo Collection
guide.

November 12, 2018 -
Added Scooby-Doo! Return to Zombie Island to the
Movie Guide
.
November 7, 2018 -
Added info about Scooby-Doo and the Curse of the 13th Ghost to all the various guides.
---
---
UPCOMING SCOOBY-DOO EVENTS
Wednesday, December 12, 2018 - Scooby Apocalypse #32
Wednesday, December 19, 2018 -
Scooby-Doo, Where Are You? #96
Wednesday, January 2, 2019 -
Scooby-Doo! Team Up #45 (feat. Mr. Miracle and Big Barda)
---
---


All original content
© 2018 ScoobySnax.com. Scooby-Doo and all related content are trademarks of Warner Brothers, Hanna-Barbera Productions, and Cartoon Network. I am not affiliated with Warner Brothers, Hanna-Barbera or Cartoon Network in any way (just a fan who loves Scooby!).


Powered by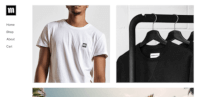 Create your own unique website with customizable templates.